"Sangaragiri" was the ancient name of Udumalpet. It's possible that there might be local or regional folklore associated with the name.
As for the claim that Udumalpet has a history of 200 decades (or 2,000 years), it seems highly unlikely. Udumalpet is a relatively modern town that developed during the British colonial period and gained prominence in the 19th and 20th centuries. The recorded history of the town is not as ancient as claimed.
The specific topography of Udumalpet and its surroundings may vary, but it is likely that the town is located in a region with hilly terrain and the presence of smaller mountains or hills in the vicinity. The Western Ghats are known for their scenic beauty, lush forests, and diverse flora and fauna.
Palani is located to the east of Udumalpet. Palani is a town in the Dindigul district of Tamil Nadu, India. It is well-known as a significant pilgrimage center and is primarily associated with the worship of Lord Murugan, also known as Kartikeya or Subramanya.
Devotees from Tamil Nadu and various parts of India visit Palani to seek the blessings of Lord Murugan and offer their prayers.
In the West, masaniamman temple is located which is famous for its spirituality. Evenly it is surrounded by mountains everywhere it is referred
as udumalpet.
udumalpet has several interesting and ancient temples.
The famous Sithandeswarar temple is situated at udumalpet. Specifically the deity is faced towards south.

The town was under the command of the Dhalia palayapat. The realm for the temple, the maintenance of sithandeswarar temple was offered by Yethalappa nayakkar from Dhalia palayapat which was writtenand given in cheppu pattayam by them.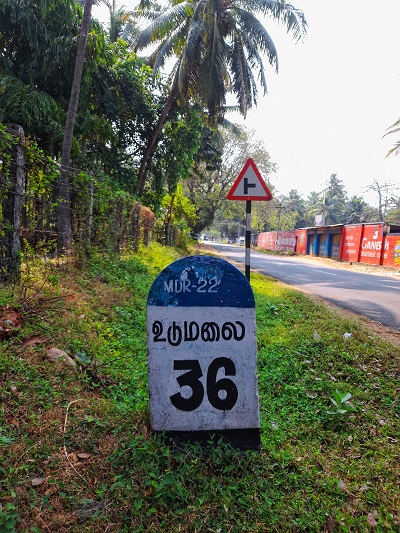 Facts:

The municipality was formed in 1918 and upgraded to a second grade municipality in 1970. For several reasons
Tiruppur district was created and udumalapet was added as municipality along with that. This rule was opposed by the many residents of udumalapet.
Among several towns and municipalities, udumalpet is considered as ancient municipality in Tiruppur district.
Famous Food of the City
Adaiset
every udumalaiyans strictly addicted to the adaiset , it was happend just few years back . we created the era of famous food for this city
it also menat to be affordable for everyone with just 10rs and make it available never became rare or costly
things we frame our culture with
Affordable
Quantity
Tasty
Durable
hotels and restaurant serving best food with quality , every foodie must know foodie guide if the city
Vadumangai
udumalpet grew Vadumangai is very famous for exporting across the globe for real traditional foodies
it grew from the reserved forest such as kodanthur, manjapatti, chinnar, sellers directly purchase from the tribes of the nearby reserved forest areas and selling to locals also export them to nearby countries ( Malaysia, Singapoor)
Geography
The udumalpet is established as 7.41 km2 of which 6.582 km2 is urban and 0.828 km2 is rural. Palani malai is situated in the east, Annamalai is situated in the west, senjeri malai is located in the north, last but not least thirumoorthy malai is sited in the south.
Udumalapet is located along the foothills of the Western Ghats Kovilkadavu, Kolumam, Kaniyoor, Kadathoor, Kaaratholuvu are the places where Lord Shiva is revered.
Education:

Excellent colleges and schools are located in udumalapet to provide quality education to the young.  In order to bring away the hidden talents and to bestow an impressive personality upon rural students by providing access to higher education.
In spite of inculcating the sense of obligation in the youth and generating ambition to build up a strong India.
Oldest Schools in the City
these schools are running with providing better education and discipline to the students for more than 100 years.
Central Govt Schools
Kendriya Vidyalaya School, Udumalpet
Sainik School, Amaravathinagar (National Defence Academy – NDA)
There are about fifteen higher secondary schools and a handful of Arts and Science colleges like
Private Colleges
Vidyasagar College of Arts and Science,
Government Arts and Science college,
Sri GVG Visalakshi College for Women
Kamalam College of Arts and Science
Rudraveni Muthuswamy Polytechnic College
N.V POLYTECHNIC COLLEGE
Suguna Institute of Poultry Management
SHRI PARANJOTHI YOGA COLLEGE
People Living  Standards :
Economically udumalpet has many modest and large-scale industries. In addition, farming is also the main occupation among residents.
Spinning industries, paper manufacturing, and the surrounding areas have seen a surge in windmill installations because of the position of the town across the Palghat Gap.
Areas surrounding Udumalpet are agricultural lands.
Mainly coconut trees and veggies are grown in this area, whereas, agricultural activities are developed mainly in the hinterlands of the town, wherever the water facility is available, wet crops like paddy, sugarcane, etc., are grown in those areas.
Predominant occupation in this area is trade and commerce. Most of them among the residents are working force.
What Specialties are Differentiating Our Udumalai From Other Cities
Although many towns have been palliated by the Metro City, udumalaipettai is still standing out as the capital township of the surrounding villages along with the fame.
In our neighborhoods, cow dung odor will be the dominated rather sewage stink.
All modes of conveyance will be there eventually there will be no traffic jam and pollution. Though many towns are facilitated with 24/7 bus service, udumalaipettai town has the limited bus service which is till 9PM.
People who grazing the cows on the farm and gardens don't require bus post 9PM. Possibilities for moving around is mostly visiting to Palani temple, to does job in tirupur, traveling to Coimbatore. Hence, it is very obvious that we don't require bus for the full night.
Despite wasting money by exploring Pondicherry, goa, ooty can enjoy the nature of the amaravathy river by sitting the banks of river. Seemingly, we also get the peace and mountaineering experience along with nature.
The experience will reach us feel that we are in heaven.
Clean and tidy shops, tendency talk, without any congestion are the supreme facts of udumalaipettai.
Black soil mud, fragrance of sugar cane, calf flow, bus facility for every one hour, rare train facility, branded mini showrooms, thirumoorthy water, beauty of windmill.
On the summit of everything, the slang of udumalpettai is very specific along with add-ons of "vaang, pong" which is pleasant and beautiful of ancient Tamil.
Compared to other metro cities udumalapet is a village eventually it also stands upright as the town for the neighboring hamlets.
Masses who are residing will be affectionate towards whomsoever migrated
to this place.
Surprisingly everyone is treated as relatives and loves.
Because of these above facts, no one will intend to move away or get transferred to other places.
Desired to maintain the same circumstances of nature and pleasant nature of mass.
Udumalpet Tourist Places :
Near by Places:
are the places where we can see the piece of heaven. Desired place to explore
pleasant nature and serenity you can check out some nearby tourist places of the city.
Village Name List Under Udumalai Taluk

1 Alampalayam
2 Amaravathi R.F.
3 Anamalai R.F.
4 Andigoundanur
5 Anthiyur
6 Arasur
7 Bodipatti
8 Bogi Goundendasarapatti
9 Chinnakumarapalayam
10 Chinnavalavadi
11 Chinnaveerampatti
12 Deepalapatti
13 Devanurpudur
14 Elayamuthur
15 Erisinampatti
16 Ganapathipalayam
17 Guruvappanaickanur
18 Jallipatti
19 Jilobanaickampalayam
20 Kallapuram
21 Kannamanaickanur
22 Kodingiam
23 Krishnapuram
24 Kudiraiar & Kukkal R.F.
25 Kuralkuttai
26 Kurichikottai
27 Kurunjeri
28 Lingamavoor
29 Manjampatti R.F.
30 Manupatti
31 Modakkupatti
32 North Boothinatham
33 Pallapalayam
34 Periapappanuthu
35 Periavalavadi
36 Pungamuthur
37 R. Velur
38 Ragalbavi
39 Ravanapuram
40 Reddi palayam
41 Sarkarpudur
42 Sellappam Palayam
43 Sinna Pappanuthu
44 Southboothinatham
45 Thinnapatti
46 Thumbalapatti
47 Udukkampalayam
48 Valayapalayam
49 Venasapatti
50 Venkitapuram
Transportation
Railway Connection:
The station code for Udumalaippettai Railway Station is UDT. Approximately 8 are passing through the Udumalaippettai Railway Station. Major trains going through the Udumalaippettai Railway Station are
Airport:
we lovingly connect with south india's monters coimbatore Sitra ( Coimbatore International Airport) you can check out the nearest airport
Bus Connection:
Udumalaipettai is well linked to other major cities of the state via regular buses. some popular availability from Major Ciities such as Chennai, Bangalore, Hyderabad, Erode, Coimbatore, Tiruchy, Tirunelveli.