History of Udumalai Thirupathi
In the year 2016, From Tirumalai Perumal was brought to Udumalai and the poojas were performed in a very special manner with, approximately three thousand people participating.
Udumalai Tirupati Sri Balaji Charitable Trust Formation: 
For the last nine years of the during Yukadi festival and the celebration of Arul migu goddess Renukadevi's thirukalyana festival, by spiritual devotees, the need of venkatesa perumal in our place udumalai is considered as essential and about building the temple for lord venkatesa perumal was deeply discussed.
These two are considered as major reasons to establish udumali thirupathi.
 After several meetings and discussion between spiritual lovers,successfully  the "Udumalai Tirupati Sri Balaji Charitable Trust" was formed. Mr.Ramakrishnan became  Managing Trustee and Mr.M.Veluchami, Mr.M.Amarnath, Mr.G. Raveendran was serviced as trustee.
For building the temple first the location visited is ponneri,gandhinagar II,pollachi route etc and finally the Udumalai Thali Road in Lakeview Wardrobe was selected and fixed for the site.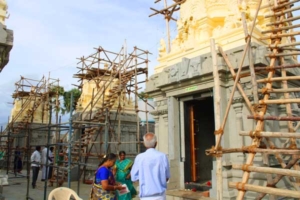 Consequently, the building ceremony began with the foundation stone laying ceremony of the new temple at Sri Venkatesa Perumal Temple. Sri Thayyaar shrine was located to the north of Sri Venkatesa Perumal temple shrine and to the left is the Sri Andal shrine.
The shrines of Sri Viswachena, Sri Chakravattavar, Sri Dhavanandri, Sri Lakshmi Narasimha, Sri Shayakriver, Sri Anjaneyar, and Sri Garudavar are located in specific directions inside the temple.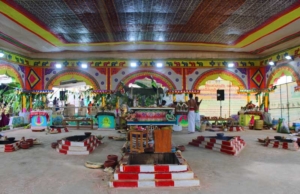 During the temple repairs in 2017, Injimadu Balajipater was also present. Rajagopalan and Velukkudi Krishnan Swamis, Ramesh and Mr. Kengusamy Naidu, Sri Villiputtur Dean of Sri Sri Sri Satakoba Ramanuja Jeyar, Sri Mann U.W. Anantapadmachchiar and Dr. Ramakrishnan, Valajabad Balaji sculptor, all participated in various events held at the temple premises.
The auspicious event of Astabandhana balalaya maha samprokshanamat udumalai tirupati  temple in udumalpet 
This is Srirangam Srimathandavan Vaibhava
Srimushnam SriSriSriVarahathesiga Mahadhesigan Swamigal
Sri Villiputhur 24th pattam
Sri Sri Sri Sadagopa Ramanuja Iyyar Swamigal
Sri Sri Sri Sendalankara Senbaga Mannar
Sri Ramanuja Iyyar Swamigal
Those Aacharya Maha Purushargal will do mangalasasanam and ready to give blessings from bottom of heart.
Also Bagavathkarya Jodhida Sagarachakravarthi Srimath Ahobilamadam Aasthanavidhan Srimath RamanujaSevaaSri
Sri A.M.Rajagopalan also
And many of the respected peoples are participating in this.
"Pravasanathilagam" Vijay,Jaya Podhigai TV Sri Mannarayaneeyam famous
Thamal sri ramakrishnan swami also
"Kurai onrumillai govindha"
On this title, he is going to give a great speech,
We welcome all devotees to join in this and to get blessings of Bagavath Bagavadha Anukraha and to get full blessings of god.
Here welcomes
Managers and Trustees
Udumalai Thirupathi Sri Balaji charitable Trust
Construction and Designs
Sri.S.Ramesh Sculpturist,Coimbatore
Sri.S.Baskar Sculpturist,Pollachi
Silaathirumenigal Creations
Dr.S.Ramakrishnan sculpturist – Valajhabadh
Uthsavathirumenigal Creations
Sri.K.Vengadesh Sculpturist – Swamimalai
Bank Details: Indian Overseas
Bank Udumalpet Branch Udumalai Tirupati Sri.Balaji Charitable Trust
A/c.No: 053401000032000
IFSC CODE: 10BA0000534
We thank you all in advance for your Co-operation and consistent contribution towards this divine service. For more information about donations,
Contact
Phone No. +91-9842224163 | +91-8072723971
Udumalai Tirupati, Dhali road,Pallapalayam,Udumalpet – 642 112