RACE (Riders And Campers Elite Club) of Udumalai is a community with a passion for hosting non-saleable bizarre & inimitable trips.
RACE Udumalai started up in late July 2018 by initiating a simple breakfast ride to Kanthaloor with a group of 10.
There on, we have been looking for the breakthrough for the next trip and the plans never became a reality after a couple of unsuccessful attempts to get people together.
While me (Balachandar, Owning Kick Grass Restaurant) being a part of RACE Udumalai, I'm equally excited to share my recent experience on the hours of darkness ride we executed last night.
The Plan:
It all started when I came up with the proposal of an evening ride tagged along with an overnight stay at someplace that might be an alluring weekend getaway to the team.
Everyone agreed for 16-Sept-2018 to be a feasible date. We struggled to prototype the plan in fixing up a place, date, and time for the trip due to last-minute dropouts from few mates considering other priorities.
That's when Kalaiselvan ringed me up suggesting a meet-up with the fellow mates of RACE for drafting the "plan". While we were awaiting confirmations from the fellow mates, I had dressed up to a ceremony at Rasi Marriage Hall.
There is a saying, "When things are to happen, everything will fall into place with no effort!".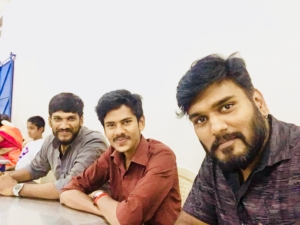 Having said that, coincidently met my RACE teammate Sasi Raghav
(The Candid Photographer of Divine Photography) behind the lens on a shoot out of the ceremony.
There is no better place to kick off the meetup plan, thereby had a telecom with another RACE buddy Venkateswaran (Founder of Venktrtech Ltd) who had no correlation to the ceremony 😛 Pulled him in for a dinner with 3 of us manipulating the possible options.
While we talked through with others, nothing had fallen in place hence we three along with Kalaiselvan decided to go on a drive at 10:00 PM to Sasi's farm located in Kallapuram, the outskirts of Udumalai, spend a couple of hours and get back home.
Upscaled to a count of 8
While the plan shaped up, few other RACE buddies Arun (Founder of Black Magic Gym), Ashok (Bigwig of Garuda UPVC Windows and Doors) alongside his cousin, Adithya (The man behind Mulloli event planners) were ok for a short drive close to town so everyone can get back to routines the next day morning.
Wow! In a couple of hours, from nowhere we upscaled to a count of 8. That's still a lot considering the plans which did not get through trying every possible way in the past couple of weeks.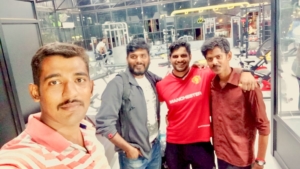 Time to ring the bell! We all agreed to meet up at Black Magic Gym around 9:00 PM so we can start of at 10:00 PM heading to Kallapuram for a 40km round trip with a small break in the farm.
Arun was glued to the Gym training his fitness freaks, I arrived there spotting Ashok, Kalai, and Venkat.
Since Arun was on an unplanned appointment the next day, he was likely to pull out of the trip.
On a chit-chat among the others, while waiting for Sasi & Adithya to arrive, we drafted the possibilities of a bit stretched night trip of a coverage of 200kms back n forth.
Drive to Salem for a cup of coffee, Perunthurai by-pass for a biryani, Avinashi by-pass for a coffee day hang out, Ooty for a hot bread omelette, Temple City restaurant in Madurai by-pass for a South Indian delicacy.
Out of all, a round trip to Temple City Restaurant, Madurai by-pass was a viable bet considering the time, travel, distance & the roads.
To make up Arun's drop out, Adithya was accompanied by our new chap Praveen which retained our count to 8.
The Trip:
A lot of planning, now it's time to get on shoes! We fueled up and the time was 10:50 PM when we set ourselves on drive mode. Yes! The trip is on.
We had a pitstop at Palani by-pass for a coffee break which is when things changed drastically without any clue 😀 Yes, there was a change of plan, we decided to drive up the hill to Kodaikanal instead of Temple City, Madurai by-pass quoting that, not everyone are food hungry, instead everyone was traveled hungrily.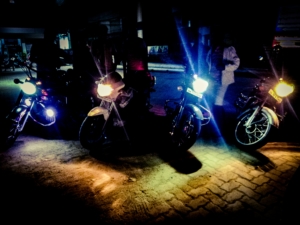 The time ticks at 11:50 PM, we then realize that we missed pulling a couple of our chaps Pranesh & Bharathi (The man behind Star Computers). When we realized it, it was too late since we were already on track.
Felt bad about it since the idea was to plan it for Saturday & sudden drift in the sequence of events had left us blinded folded costing the couple of them to miss the trip. Sorry, Guys! Let's join us next time.
Now the compass points to Kodaikanal and we were on a diversion.
We did stop for a lay-by to stay away from cramps and had a half hour halt at Perumpallam for cof
fee & bread omelet. My gosh! One of the best bread omelet I had in the recent past, truly tasted divine.
It was 1:30 AM when we geared up the hill.
Had a usual cop check at Perumalmalai and it was a hassle free procedure which we passed in no matter of time and kept scaling up the hill. There we come, "The Lake", Kodaikanal.
We took a deep breath after reaching the Kodaikanal lake, the welcoming point of the Kodaikanal town. A break of 45mins relaxing the one-way drive is worth a mention.
The time was 3:30 AM and the most awaited ride around the lake was on cards. Took a couple of rounds in the ice cold weather adjacent to the waters.
The most awaited drive of 6kms around the lake which is worth the 200kms roundtrip. It was 4:20 AM when we decided to head back and had plans to stop by for a coffee and bread omelette at Perumpallam.
Scariest part
Everything was as per the plan and the unexpected things do happen in certain circumstances.
We had the spooky part too 😀 While driving down, it was misty and couldn't vision anything beyond 5 meters and driving in the middle of the woods in darkness with spooky mist limiting us to a speed of 10kmph. The scariest part, while heading down, we weren't
maintaining a distance in the vicinity and was out of sync leaving our hearts to pump faster.
When you drive in a poor visibility with everything in front of you moving white, we could experience the simulation of the movie characters "The Nun", "The Conjuring series" passing by as a hallucination.
At a distance when I saw the light at the end of the tunnel, had hopes of survival! Yes, that's the coffee shop waiting to serve us much-needed coffee and bread omelet.
None of us were ready to drive down until the mist settles down and found a place to take a power nap on the floor.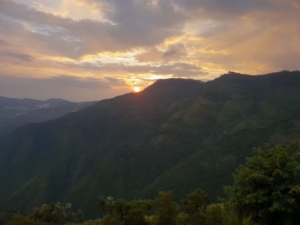 Witness the Early morning
Yeah it was deadly cold but who cares as long as you got a roof on top 😛 It was 6:15AM when the sky was clear and had the morning light peeping out.
We were sure not to miss the sunrise so we rushed to a spot on the way to witness the early morning sunrise.
We were lucky and on par. Took the needy pictures and started back driving towards destiny.
We did take a couple of short breaks to stay cramp free and it was clean and break free ride from the foothills to Madathukulam stopping for a breakfast.
It was 8:20AM when we were done with breakfast and we were short of 15kms to reach back the finish line.
Reached by 8:45AM and after a 15 min of chit chats and hi5, we signed off from there to our daily routines.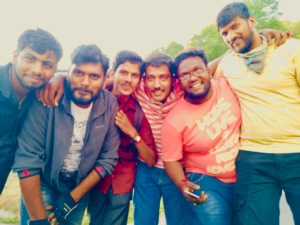 While it was worth an experience, the trip conveys a point that, when things are to be planned, it can go on and on and on. It's actually when you start executing it, things will get unfold and become a reality!
Writer : Balachandar Govindaraj