Udumalpet is located in the Tiruppur district of Tamil Nadu, India, while Thoovanam Waterfalls is situated in the Chinnar Wildlife Sanctuary in kerala . The distance between Udumalpet and Thoovanam Waterfalls is approximately 82 kilometers via road. Here's the suggested route:
Udumalpet – Amaravathi – Udumalai – Chinnar – Thoovanam Waterfalls
As for the places you will cross along the way, the major towns you will pass through are Amaravathi and Udumalai (Pollachi). These towns are known for their scenic beauty and are popular tourist destinations.
When traveling from Udumalpet to Thoovanam Waterfalls, you will also pass through the Chinnar Wildlife Sanctuary. It is advisable to check the entry requirements and obtain the necessary permits or tickets at the check post of the sanctuary.
Regarding the entry fee for Annamalai Tiger Reserve, which is located in the Anaimalai Hills range, the fee for a car is subject to change and might be different from the mentioned amount of 50 rupees. It's recommended to verify the latest information regarding the entry fees by contacting the official authorities or checking their official website before your visit.
Pamba River comes to Chinnar, finally, it reaches Amaravarthi
Alampetty chinar is 15 km from Chinnar.
Alampetty has one beautiful Coffe Shop with Eco Coffee and Tea
Directly Tea Powder cultivated from Munnar
The additional information you provided states that Alampetty is one of the trekking points where tourists can register for visiting Thoovanam Waterfalls. It implies that Alampetty serves as a starting point for trekking towards the waterfalls.
According to the details provided, tourists are allowed to visit Thoovanam Waterfalls under the guidance of forest rangers. The permitted duration of stay at the waterfalls is limited to 3 hours. This timeframe includes a 2-hour walk to reach the waterfalls and 1 hour allocated for bathing in the waterfall.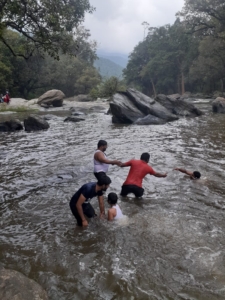 The additional information highlights the enjoyment and excitement that Thoovanam Waterfalls guarantees to visitors.
It suggests that anyone who visits the waterfalls from Alampetty or any other location will not leave the place feeling unhappy.
it emphasizes the idea that once you experience the beauty and fun at Thoovanam Waterfalls, you wouldn't want to miss the opportunity to engage in fun games with your friends or relatives.
It conveys the notion that Thoovanam Waterfalls offers a memorable and enjoyable experience, creating lasting memories for those who visit.