it is a more than century-old Historical and most famous temple in this city where all over the villages come to celebrate the one festival.
Moolavar: Arulmigu Sri Mariamman
Theertham or Holy water: Well water
Agamam and Pooja: Saiva agama
Temple age: 500 years old temple.
Historical Name: Udumbu Malai, Karagiri.
City: Udumalpet
District: Tirupur
State: Tamilnadu
Famous Festival Days:
The main festival Ther Thiruvizha is celebrated for 19 days. During Panguni chithirai (March to May),.
The famous festival is only one festival in this city no one wants to miss from any religion.
Ther Thiruvizha highest entertainment and spiritual celebration for the whole city and villagers
Deepavali from October to November,
Navarathri from September to October,
Thiriukarthikai from November to December.
All Fridays in Aadi month (July to August) and full moon days in the through out the year grand festive celebration done with special Pooja.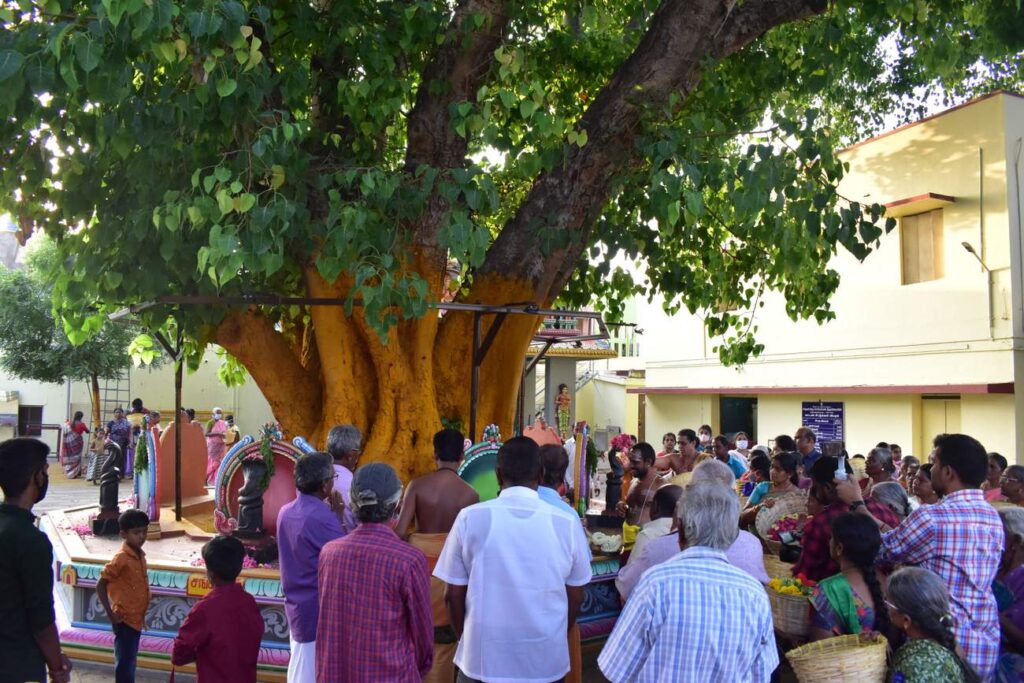 Temple speciality:
Sri Mariyamman is a Swayambumurthi.
Temple Opening Time:
It's open Morning from 6.00A.m to 12.00 A.m and Evening from 4.00 P.m to 9.00 P.m.
Temple Address:
Sri Mariyamman Temple, Udumalpet, Tirupur
Phone number +91-4252-224755.
General information
Selva Ganapati Selva Muthukumaran has Ashta Naga deities under his head.
Half circle shaped mountain is surrounded the village is known as "Chakkapuri" where Monitor lizards were lives in the area is called "Udumbu Malai" later it was called as udumalai Now it also known as Udumalaipettai.
Prayers
Eye Disease, Ammai Disease, late Marriage, Pudthira Dosham, Naga Dosham if you may want to remove.
The greatness of Temple:
At this site, Mariamman is the deity who removes the grievances of the devotees.
In addition, Mangalya Puja is performed by 108 couples every year at this temple on the occasion of Markazhi Thiruvathirai.
Nerthikadan:
For him, he made Aval, Coconut, Sugar Pongal Naivetyam Milk Pot, Firepot, Food donation Mottai is the main delicacy in the Temple.
Temple Sannathi :
Sri Mariamman
Sri Sakthi Vinayagar
Sri Muthukumaran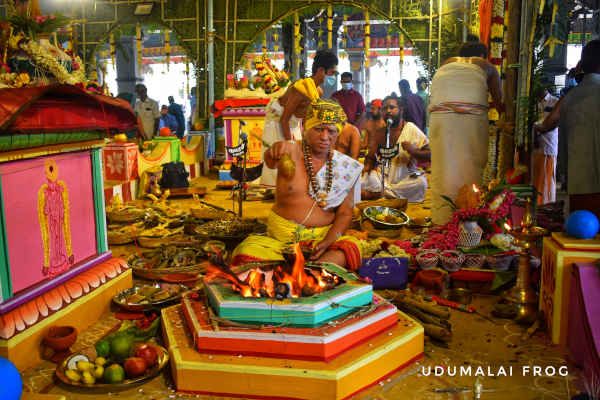 Kumbhabhishekam
The temple has undergone various renovations including painting of a new shrine for the festival idols, Moolavar and Parivar idols tower, and Rajagopuram.
Here Sri Mariamman Pancha Asana Vedi and 9 Kundas, Vinayaka Peruman, Selva Muthukumaraswamy, Ashta Nagar, Kodimaram, Pali Peetham each have 13 Kundas as a Kundam and a platform with 5 platforms.