The impertinence of our products when blended with the use of traditional home-made recipes, provide a unique dining experience which is exclusive to Senthil Hotel We believe in maintaining the exquisite traditions of Tamilnadu cuisine and reaching out to the world as its brand ambassadors.
The restaurant biz is super competitive, which is why standing out from every other position is a key component to success.
Of course, a good restaurant should have great food, so "You will be served what you deserve" in our hotel.
Breakfast:
Awaiting for a delicious breakfast recipe to start your morning off right? You've definitely come to the right place. We're here to animate you to eat a good breakfast every day with this list of our best, yummiest, healthy breakfast recipes that pack in plenty of great flavors, along with good nutrition and your taste buds covered. Breakfast is the most important meal of the day, so it's worth the effort to eat a sizeable one!
From fluffy idly to onion roast will be cooked and served hot from morning 6.45 AM.
[the_ad id="790″] 
Idly:
Idly is a soft & fluffy steamed cake made of fermented rice & lentil batter. These are unrivaled of the healthiest protein-packed breakfasts from South Indian cuisine. Idly are easily digested as rice and lentils known as dal are soaked, ground & fermented & then prepare by steaming the batter. Idlies are served with different types of chutney and sambar.
Poori:
The popular Indian deep-fried and puffed bread made from whole wheat flour, salt, and water. Poori recipe is very versatile that it can be paired with savories or sweet. Poori and potato curry is like a match made heaven combo at all times and tops itself on the breakfast.
Pongal:
Pongal is a popular South Indian food cooked with rice & Moong dhal, either for a sweet or savory dish. Ven Pongal is the name of given to the savory version. For many south Indians, it is comfort food as it is light on the stomach. Pongal is protein-packed, tastes delicious with a good aroma of ghee and seasoned ingredients. It tastes best when served hot or warm along with coconut chutney.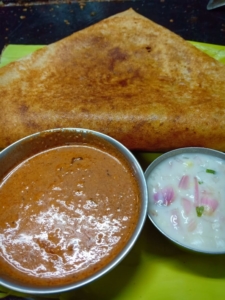 Mushroom Masala Roast
Dosa:
       A popular South Indian dish, dosa is delicious comfort food that you can eat in any given course of food. Though its origin lies in Udupi, Karnataka, it is loved and savored all over the country and across the world as well. ! We like to make and serve dosas immediately while we cook as this means they are crisp and fresh when eaten. It will be served with side dishes like South Indian coconut chutney, tomato chutney, and sambar.
[the_ad id="790″] 
Masala Dosa:
      Dosa has had many variations over time but the most popular remains the plain dosa and masala dosa. Masala Dosa Recipe is a very popular dosa recipe in all of the dozen kinds. This dosa is made by spreading a potato mixture or aloo masala as a dosa topping. This is the most preferred dosa all across south India. It is served with coconut chutney and sambar.
Onion Roast:
        The deep, roasty, slightly sweet flavor of sauteed onions in the dosa tastes absolutely amazing! Onion Dosa is a popular south-Indian delicacy. The addition of millet makes it more nutritious. Dosa is such a dish which can be relished at any time of a day. Onion roast dosas are spot on. It served with sambar and coconut chutney.
[the_ad id="790″]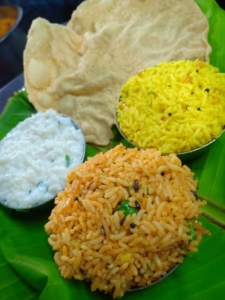 Lunch:
         By the time noon rolls around, it may seem too easy to head to the nearest restaurant. The lunch hours of the day are when our metabolism is at its peak. You're partially burned out and are looking forward to the first long break of the day. These healthy lunch recipes will get you through the workday. Lunch servings will be started from 11 AM.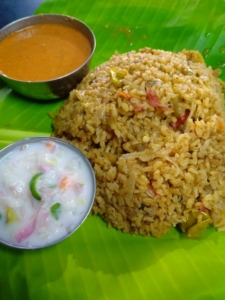 Veg Dum biryani:
        Veg Biryani represents the ultimate of Indian Cuisine with its unique cooking style of rice, the delicious blend of flavors and spices, coupled with an irresistible smell. A good proportion of Biryani is characterized by a perfumed fragrance and aroma. Further, it should be savory, but not spicy and the rice grains should not stick together. Just the smell of ghee being combined with spices and herbs wafting in the air will tickle your taste buds. Vegetable Biryani is served with Raita like Mint Raita, Onion Tomato Raita.
[the_ad id="790″] 
Egg kothu poratta:
        Kothu Parotta is a lick smacking recipe from South India. Kothu means 'minced' in Tamil where the small strips of soft and flaky parottas are coated with a medley of spices and salna (gravy) and pounded into a mince using the edge of a flat spatula. Egg Kothu Parotta or Muttai Parotta is prepared with shredded parotta that is tossed in a sauteed onion-tomato the spiced mixture scrambled eggs and salna. In most restaurants, it is served with raita but you can savor the dish without any accompaniment. Its a meal on its own, very filling and full of flavor
Bun parotta:
You might be familiar with the south Indian parotta (pronounced parotta) in its many forms – kothu parotta, chilly parotta, parotta salna, to name a few – but have you tasted or heard of bun parotta? These tastiest Bun Parottas will bring in a unique twist to the traditional recipe. Served with the choicest of sides like mutton chukka or quail (kaada) gravy, this puffed-up parotta makes for a scrumptious meal.
Curd rice:
Comforting Curd Rice is a popular dish from South India where soft cooked rice is mixed with yogurt and then tempered with spices. It is more often eaten by south Indians as a part of a meal. Curd rice is also known as thayir Saddam & daddojanam makes a great summer food. The curd rice is easy on the stomach and tastes great with a side of pickle and papadum!
[the_ad id="790″] 
Evening special Item:
Senthil hotel is recognized for some special item with perfect side dishes in the evening like Chola Poori, Tomato sandhagai, Fried Idly.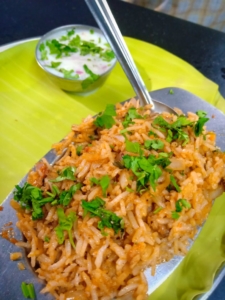 Mushroom Biryani:
This indulgent, low-fat and vegan Mushroom Biryani makes for the perfect dinner. Aromatic rice and mushrooms cooked in Instant Pot, flavored with spices, it is topped with cilantro. The taste is well enough to make one of life's milestones or make a memory of your own.
[the_ad id="790″]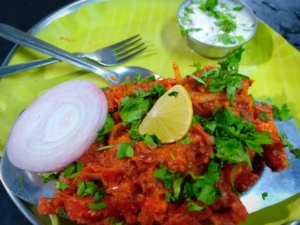 Chilly parotta:
Chilli Kothu Parotta is an extremely popular street snack in entire South India. This vegetarian snack is made by shallow frying the vegetables and cutting the flaky parottas into bite-sized pieces, dipping them in a thin batter of spiced flour and cornflour and deep-fried till crisp before being tossed in a coconut-based gravy consisting of onions, capsicums, spices and garnished with coriander leaves & spring onion, makes the flavor gets more enhanced. It is served with onion raita.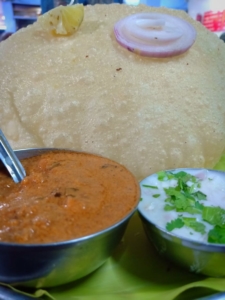 Chola poori:
Traditionally, Chole Bhature / Chola Poori is a Punjabi cuisine dish but hugely popular all over the world. Chola poori is a very popular lunch/dinner dish in restaurants. Usually, it is
served with channa masala. Chole stands for a spicy curry made with white chickpeas/ channa and bhature is a fried Indian flatbread. Chole and Bhatura are made for each other. It is also served with green chilies, onion and lemon wedges.
[the_ad id="790″] 
Tomato sandhagai:
Thakkali Sevai or Tomato Sandhagai is made of instant rice  Sevai(idiyappam) with tasty and spicy tomato Sevai. Tomato Sevai is the rice wherein vermicelli spiced with Thakkali. Similar to Thakkali Sadam, a delicacy of Tamilnadu cuisine. This tangy and flavourful tomato sevai
is perfect for snacks and it tastes so yummy.
Fried Idly:
A quick stir fry of Idli, southern Indian steamed rice pancakes with peppers, onions, and chilies to make this wonderful snack that is best enjoyed with a side of hot chai. You don't really need chutney, sambar or any other accompaniments to it. Just take some in a bowl and devour it in between sips of hot chai. You may choose to add a dash of ketchup on top if you wish to do so. These are perfect after school snacks as well and even the idli haters will love this!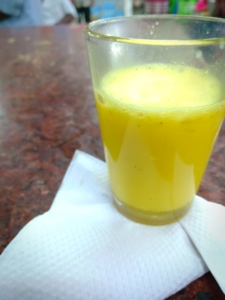 Famous Hot Drinks
Address: Hotel Senthil, Near Kalpana ground, Kalpana ground road, Udumalpet 642 126.
Phone No: 04252-221987
Mobile No:94420 10434, 77080 20946