People all over the world connect over the love of food, and we always wished no one has to struggle to get food so we started our food parcel business back in 2005, initially home was our workplace later when we started getting a good response we moved to a better place for our business.
And recently we thought to own a place where people can come, hang out have fun and get drenched in our super delicious food.  We have 4000+ customers and 1500 tourists from Kurnool and Bangalore and foreigners also visit us. 
We are open as Ajwa Restaurant in the city, do shower us with love.   We have a wide range of food items which people love to eat, and they are all made with the utmost hygiene.
[the_ad id="790″]
Biryani:
Tiny-grained seeraga samba  flavoured with exotic spices such as saffron, is layered with chicken and a thick gravy. The dish is then covered, its lid secured with dough, and then it is cooked over a low flame. This is definitely a special occasion dish. We have varieties in biryani
Chicken Dum biryani

Grilled

Chicken

Mutton Biriyani against Order (Sunday )
Mutton Biriyani against Order Minimum 1KG ( Normal Days )
Dry items:
Different parts of Meat gets marinated in spices and citric juices and later given an egg wash and coated with flour and then slowly dropped in hot oil to get it deep fried and which turns out to be super crispy and is severed as a starter or snack along with chef's special sauces to have along with it.
Chicken 65

Chicken lollipop

Chicken leg

Chicken 777

Guntur Chicken
Chicken is marinated with some regular spices along with Guntur red chilli which gives this dish an extra punch and then it is deep fried and is served hot.
Wings pepper fry.
[the_ad id="790″]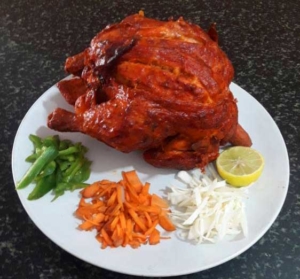 Gravy items:
Chicken masala
Chicken marinated with spices and curd gets roasted in a hot pan and then a thick gravy with onions, tomatoes along with spices and herbs is prepared and chicken is added to the gravy and gets cooked on a slow flame for few minutes and then is served hot.
Pepper Chicken gravy
The marinated chicken gets roasted in a hot pan along with pepper and then is added into a thick gravy which is made of chillies, pepper, onions, tomatoes, spices and herbs and let cook for about a few minutes and then is served hot.
 Chicken Chettinad gravy
The chicken gets marinated in curd and a lot of spices, later Chettinad masala is made for the gravy which is added after chicken gets completely cooked along with onions, tomatoes and curry leaves and let cook for a few minutes and then served.
 Garlic Chicken gravy
Garlic is the most promising Indian flavour and this flavour is infused in our chicken curry to make it intense.
Ginger Chicken gravy
Ginger gives an extra punch to the chicken curry and makes it suttle
Kadai Chicken
The marinated chicken gets roasted along with some veggies and spices, then it is added to the curry paste and is cooked for a few minutes and is served hot.
[the_ad id="790″]
Butter Chicken
Butter chicken is a northern recipe which is made with a lot of patience, firstly boneless chicken gets marinated for a long time and gets roasted and super smooth buttery gravy is made, then the chicken is added to the gravy and gets cooked and is served with butter on top.
Chicken Manchurian
Deep fried chicken is served with super thick gravy with a Chinese twist in it.
 Egg masala
Boiled eggs get roasted with oil and a little spice and then are slit and added to gravy made of brown onions and tomatoes along with spices and are served hot.
[the_ad id="790″]
Day to day items:
We have got some usual and some different pieces of bread to serve along with gravy items and everything is made with hygiene.
Chapathi

Parotta

Wheat 

Parotta

Veechu parotta

Egg veechu parotta

Chicken veechu parotta

Chilli parotta

Pepper parotta

Kaima parotta

Egg parotta.

Fried rice.

Noodles.
We have got a wide range of Doshas as well so try them all
We Deliver on Bulk Orders With Quality
Contact :
Mobile : 9786411411, 9786400300
Address : 64 Dhali Road ,Near CSI Church, Sakthivel Gas Agency  Opp, Udumalpet