Sathya boutique represents a house of fashion where we can find a colossal compilation of costumes. Sathya is fabricated with fabulous costumes exclusively for women which can inspire everyone. We can find a unique collection of dresses with awesome features. The inventor made Sathya a fruitful boutique where customers can invest their valuable time and money. They provide a variety of costumes and modern look all in one place. Most of the fabrics are made up of natural dyes in a healthy way.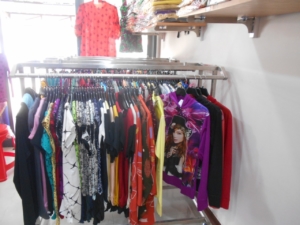 Refreshing And Trending Collections:
The collections are filled with energetic designs and awesome color fusion. The boutique provides full frock especially in cotton with a classic glimpse. Sathya adheres with fabulous cotton and synthetic tops. They also display full and half handed t-shirts. Also contains tremendous colors of palazzos, leggings and Patiyala pants. Sathya not only astonishes, it also comforts women by affording night dress comprising pants and suites. Kalamkari of terrain, cotton and gold design made Sathya boutique a peculiar house for fashion.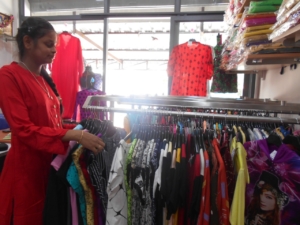 Instant Readymade Garments:
Not only material but also Sathya displays readymade chudidhar and blouse. Chudidhars are drafted with trendy and colossal designs of cotton and synthetic material, which is suitable for all age group ladies. The dresses are designed in such a manner to make customers comfortable. Readymade blouses are deepened with embroidery work for collar and boat necked blouses. Sathya provides a classy and stylish outfit for women who want to explore their style. Rachel Zeo quote explains the same "Style is a way to say who you are without having to speak.
Appealing Ethnic Wear:
Sathya intensely provides bridal lehengas for both north and south Indian people and also Muslim oriented designs. Designer sarees range from lowest to highest price. Sarees comprises an enormous variety of Punam, Shana silk, handloom sarees, hand embroidery, and shad sarees. These sarees are made of cotton, synthetic, net and less weighted material. Sathya includes blouse bit for all sort of saree materials.
Customer satisfaction
Sathya boutique mainly aims at customer satisfaction and endeavor in fulfilling customer's taste. The designs are engraved in garments in such a manner which makes the person feel confident and comfortable. Customer purchasing costumes from Sathya boutique realize cost-effectiveness and elegant nature of the garments. Customer visiting Sathya boutique will experience the best suggestion and attentive nature of the co-workers.
Contact :
Address: No 228, Union Office Bus Stop , Kamatchi amman temple Opp , Dhali Road , Udumalpet
Call: 63697 32040