Kambukoozh is an ancient porridge used in tamilnadu. Kambukoozh kadai runned by bakrudeen in Bodipatti,Udumalpet towards the root of thirumoorthy malai road.
He successfully running with passion and dedication for this business for more than 25 years. most of the customers are becoming a fan of him for his taste and hygienic.
This drink mentioned in Sangam literature as a nutritional drink for breakfast or lunch.
It is also rich in fibre, protein, minerals such as magnesium, zinc, folic acid, lecithin, B complex vitamins, amino acids and calcium.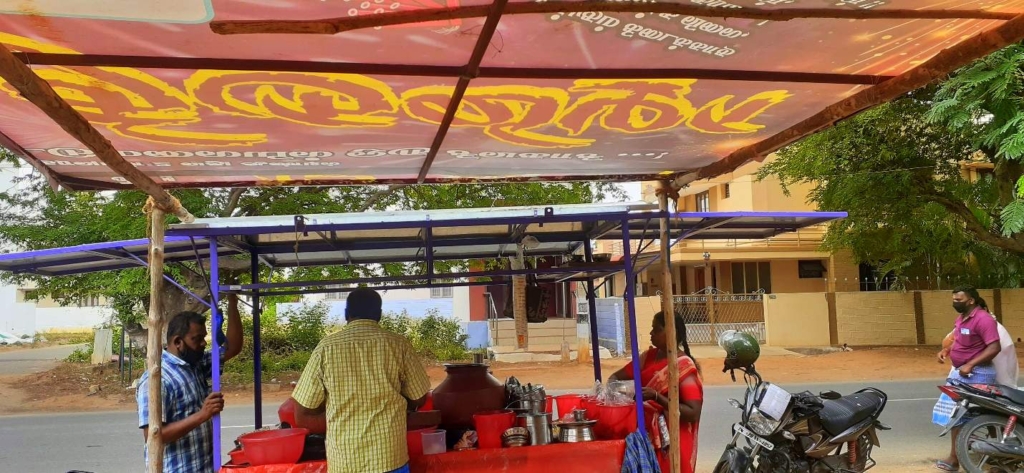 So, instead of that, we take foxtail millets[Thinai], finger millets [kaelvaragu].
kambu koozh is heat or cold ?
It is more popular in the summer season.
It reduces heat. Importantly, we don't take pearl millets in the winter season because it cools down our body a lot.
specifically, in the summer season, it is a common lunch in some rural parts of Tamilnadu.
In some places, they provide kammangool for rate in a small store.
Preparation:
 First of all, clean the kambhu [pearl millets]. Remove the husks surrounded by it. After that, put the  kambu in mixie.
Next, we boil that crushed pearl millet in water till it comes to semi-solid state.
This taste be like a sour tang flavour if fermented and consumed  by adding water, buttermilk, onion, curry leaves and coriander leaves served  with side dishes like  spiced mango, cluster beans chips, potato chips and other chips.
The microbes present  in the porridge  demonstrated  to be probiotic in nature , such microorganisms provide  health benefits  when consumed.
Benefits:
 It is rich in nutrients, develops immunity, aids good sleep, improves haemoglobin content, nourishes the bone, relieves  menstrual cramps, enhances eyesight, cools down the body, it makes well balanced  diet, it linked with affective weight lose.
For Any Function or Event can Bulk Order for Healthy Traditional Food
Ragi mor koozh
Kambukoozh
Ice mor
Masala mor
Kambu thayir
Mor
For Order Contact
NB Catering Services
B. Bakrdeen – 9688752330, 94427 64330