In 2000 Our Sweet Palace was established and named "AVM Sweets and Snacks" It was the Very First Retail Sweet shop in Udumalpet. The sweets are made in a hygienic way. The different varieties and different flavors of each sweet are ready through Out  24*7.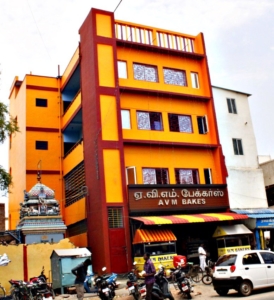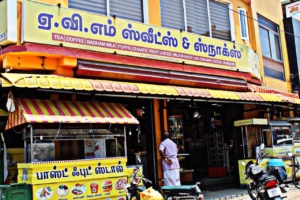 Our Branches
AVM SWEETS AND SNACKS
91, Palani Road, Udumalpet
Contact Person : Mr. S.Thangamani
Ph : 04252 226099 Mobile : 94422 26099
AVM BAKERS
108, Palani Road, Udumalpet
Contact Person : Mr. V.Christopher.,B.E.,
Mobile: 94422 06099
AVM ICE CREAM PARLOUR
108, Palani Road,
1st Floor @ AVM Bakers, Udumalpet
Contact Person: Mr. V.Christopher., B.E.,
Mobile: 94422 06099
AVM SWEETS AND SNACKS
92, Palani Road, Udumalpet
Contact Person: Mr. S.Thangamani
Ph: 04252 226099
Mobile: 94422 26099
Follow us for Offers
Whatsapp: +919442206099
[the_ad id="790″]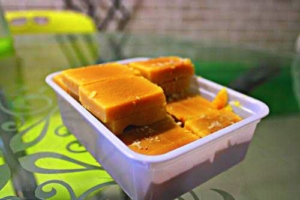 Soft Ghee Mysorepak
Soft Ghee Mysorepak is a famous dessert which is specially made for AVM customers. A delicious one which gives the feel of mouth-watering and melts in the mouth with lots of ghee. It is prepared in a hygienic manner in regard to the customer's health. It is a delectable Indian sweet made from roasted gram flour and pure homemade ghee. It oozes out the ghee during the process so that it turns tasty and crispy. The texture of this Soft Ghee Mysorepak gives the feel to ask for another Mysorepak. Delicious Eating!
Kaju flower 
Kaju flower is a traditional Indian sweet that is prepared for most festivals and other special occasions. This sweet is really an eye-catchy. A healthy dry fruit Kaju flower is flower shaped mithai made of Kaju, Pista and Kesar garnished with almonds. A complete dry fruit treat. This tasty sweet is also used at the time of the festival of celebrating and honoring sibling love too. This is made and kept safe in an extraordinary manner for AVM buyers. This is one of the most popular Indian desserts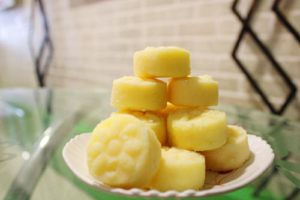 Milk Beda
India every festival is celebrated with a lot of enthusiasm and the diversity of the country adds on to the festive mood. No wonder good food and toothsome sweet delights add soul to these festivals. Milk Beda is a North Indian sweet which is being loved by people around the world. These flavorsome Milk Beda driver the customers towards its' aspect. The ingredients of it are well planned for AVM purchasers in an adequate quantity and quality.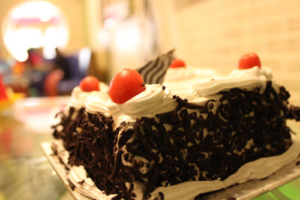 Black Forest
The Black Forest Cake combines rich chocolate cake layers with fresh cherries, cherry liqueur, and a simply whipped cream frosting. The name of this cake "Black Forest" gives the urge to the people to taste in a shop which is always fresh and waiting for delivery is AVM sweets, Udumalpet. The liberty is given to the AVM buyers in order to order the cake in the required shape as per the wish. The cherry on the cake, which decorates the cake in an awesome way and makes succulent.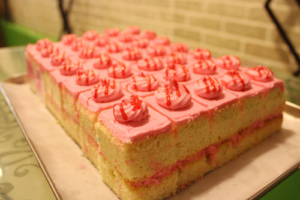 Strawberry Cake 
The Strawberry Cake has fresh strawberries in the cake as well as the frosting. This is the way for the strawberry lovers to taste strawberry in a different technique. Strawberry Cake is among everyone's all-time favorite strawberry desserts. Moist and fluffy strawberry cakes are on full swing to celebrate the party season filled with strawberry and lemon buttercream and crowned with strawberries and buttercream roses are always being made freshly in AVM sweets in different shapes.
.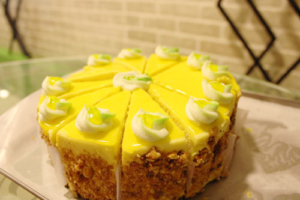 Butterscotch Cake
Here comes the Butterscotch Cake made with a moist brown sugar cake topped with butterscotch buttercream made with melted butterscotch chips! The cake is covered in more butterscotch chips and totally to die for! This cake is the all-time favorite in spite of seasons. Happiness is cake, that too Butterscotch Cake in AVM Sweets. An entire bag of melted butterscotch chips gives the feel of yummy and yummier. This has got a distinct rich flavor too.
[the_ad id="790″]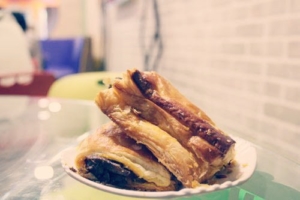 Puffs
Puffs of all varieties with regard to vegetarians and non-vegetarians are available in our AVM Sweets. This is the only snack that is being loved from kinder garden kids to older people which is of spicy masala wrapped in flaky puff pastry. It is the evergreen one. People who have no idea to have anything as snacks opt for it and it is always hot and crispy in AVM. This is an old snack but still being the closest to one's heart always. The popular snack is always made in a crystal clear manner in our shop.
Bhel Puri
Bhel puri is a crispy, soft, sweet, tangy, spicy mixture of many edibles. There are three chutneys that are added in a Bhelpuri.  Bhel Puri is a popular snack food which is available in AVM Sweets always. Bhel puri is one of the popular chaats in India. The preparation is done only after the order is placed. This shows the care for the customers and freshness is maintained always. The dry ingredients and the wet ingredients are prepared separately and mixed up to give a unique sense of taste.
[the_ad id="790″]
Mushroom Fry
Fry the coated mushrooms until golden brown and crisp, this with additional ingredients gives the mushroom chilly. The color and odor of the mushroom chilly at AVM Sweets give the push to eat more and visit again with the friends, families, and colleagues. Chili Mushroom is a classic Indo-Chinese snack that has a huge fan following, particularly in India. This crunchy and flavorful dish is often served as a starter. Mushrooms are versatile and taste good and sprinkled sesame seeds give extra taste to this dish.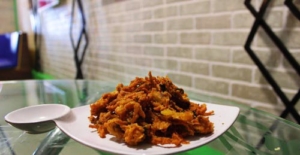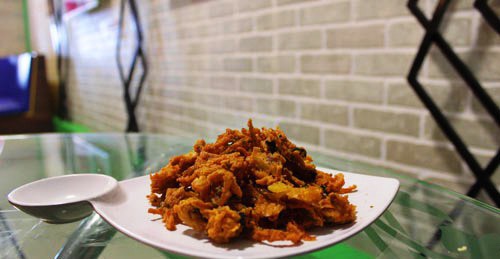 Pakoda 
Whether you want to entertain guests or just enjoy the pleasant rainy evening or cold wintery days, crispy and spicy onion pakoda can never go out of fashion which is always ready at AVM Sweets. This is a south Indian style pakoda and it tastes so crunchy and yummy. This is the perfect evening and deep fried better snack which is available in different varieties to be tasted. The materialization of this gives the feel of appetizing. Delicious and Happy Pakoda days ahead with AVM!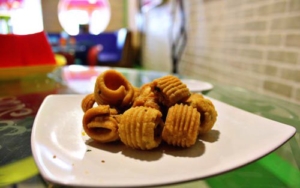 Murukku 
Murukku is a savory, crunchy snack originating from the Indian subcontinent, popular in southern India. The different types of murukku are available in AVM Sweets in different flavors. The bulk order can also be placed. The hot and spicy murukku of different classifications is available for 24*7. The spirals are then deep fried in vegetable oil. The cumin seeds which are added to it give an additional taste.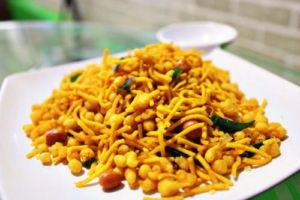 Mixture
The mixture is one of the popular south Indian snacks, which is basically a mix of various edible ingredients, nuts, and dry fruits. There are many types of mixture recipes available for AVM customers. It is also called an omapodi mixture. The popular mixtures are made with omapodi that is plain sev and boondi along with some nuts and spices. The different types of the mixture are available in different flavors. This is a crispy snack prepared during festival times and on a special occasion. This is an all-time favorite snack.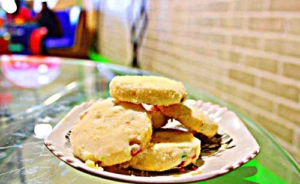 Karachi Fruit cookies
Karachi Fruit biscuits are like an Indian version of slice-and-bake cookies. They are crunchy and rich cookies that are very popular in all places. The cherries in it give attention to the buyers to buy more in AVM Sweets. It has got different elements in it in different varieties and those are available in AVM Sweets. It will be the best snack among all during the evening time and in different seasons. The recipes of more varieties are always fresh in our shop
[the_ad id="790″]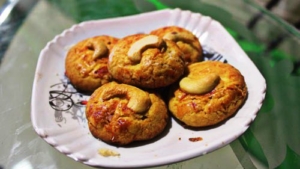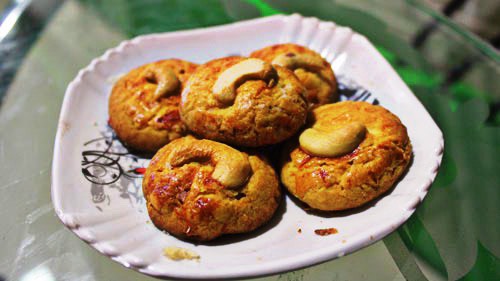 Cashew Cookies
A soft sour cream cookie with cashews which is termed is cashew cookies and burned butter frosting is available in our AVM Sweets. This is the world's best cookie. Once tried, people may fall in love with it. Just a handful of ingredient is needed to make this delicious food. Pista, walnuts and other nuts which are added over the cookies gives an extra taste. The configuration of it and taste grabs the more buyers always.
Ghee Cookies
Ghee cookie is the only snack that is delicious and can be enjoyed with the family on any occasion. Ghee biscuits are crispy and yummy and once tasted, it gives the urge to taste it again. The reason for it is, ghee has got a really nutty flavor. The better quality is used in the preparation and during the process. Thess Ghee biscuit are prepared in very different shapes like trees, stars, toys, etc. to give enthusiasm to the children